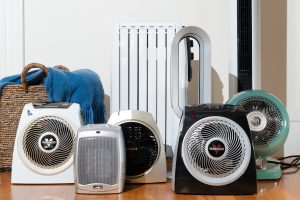 Whether you're cold-natured all the time or need an extra boost of warmth this February, space heaters can do the trick–but only if used correctly. In fact, according to the National Fire Protection Association, space heaters alone account for 81% of home heating fire-related deaths each year. One deadly apartment fire in New York this past January tragically demonstrates this statistic far too well.
I want you and your family to be safe in your home. So if you or someone you love uses a space heater, take a minute to read over this list of 5 best practices. Don't compromise or budge when it comes to protecting your family this winter.
Purchase a heater from a recognized testing laboratory, such as UL, ETL (Intertek), or CSA (Canadian Standards Association). It may be tempting to grab the cheapest heater on the shelf, especially if you anticipate only using it for several months; don't. It's just not worth the risk. Learn more from this space heater buying guide from Consumer Reports.
Never leave a space heater unattended when it's heating. It's easy to think, "It'll be fine. I'm just in a different room or running a quick errand." It's times like this when disaster hits. Always turn off or unplug a space heater when no one is in the room.
Don't place space heaters on top of things. The U.S. Fire Administration recommends you keep your space heater on flat ground. That includes putting them on top of carpet or rugs that may slip and off of dressers, tables, or other pieces of furniture.
Always plug a space heater directly into the wall. One of the most significant risks of using a space heater is the potential for an electrical fire. Plugging them directly into the wall instead of a power strip, surge protector, or extension cord will help prevent overloading your circuits.
Avoid gas or kerosene space heaters. Unlike electric space heaters, these heaters release carbon dioxide, carbon monoxide, and nitrogen dioxide into the air, all of which can cause symptoms including headaches, coughing, sleepiness, and even death. Electric space heaters are the safer choice for indoor use.
Stay safe and as always, and get a quote with us today to make sure you and your family are covered.