Just because you operate a small business don't think you are not a target for cyber attacks. Actually, you may be a more attractive target because larger corporations have much more sophisticated safeguards and software against cyber attacks although those firms generate all the headlines. A small business is also an attractive target because it has much more digital information than an individual, and usually with only slightly more protection, that in today's world isn't hard for the average hacker to figure out.
Cyber attacks not only threaten your business information
It also threatens clients' data. This could include Social Security numbers, credit card numbers and bank account numbers. There could be lawsuits and your business would be liable for court fees and settlements. Cyber thieves can also steal sensitive data about your vendors.
Think about the consequences of a business interruption from a cyber attack or the cost of paying for credit monitoring services for customers. Some businesses have been forced to shut down because of a cyber attack even though they had anti-virus software and some have even filed for bankruptcy.
Worse yet, your data may have been breached without your knowledge. Or a weather event could cause a major cyber issue by destroying a database. A common cyber attack is having data encrypted and not being released until a ransom is paid, according to one insurance executive. The largest cyber attack to date was a massive global ransomware attack.
Cyber attacks are increasing at an alarming rate – from 780 in 2015 to nearly 1,100 last year, according to Identity Theft Resource Center. Who's vulnerable? Any business that collects personal information.
That is why insurance against cyber attacks is not an option, but a necessity. It's the cost of doing business.
In recent news, many have heard about or even been victim or viruses or ransomware. Even employees here at Starke have received various suspicious emails from friends, family or coworkers that are bait to download or open something.
A fellow Montgomerian and IT Head at WSFA , Caleb Hawk sent this out to his coworkers in light of the recent events: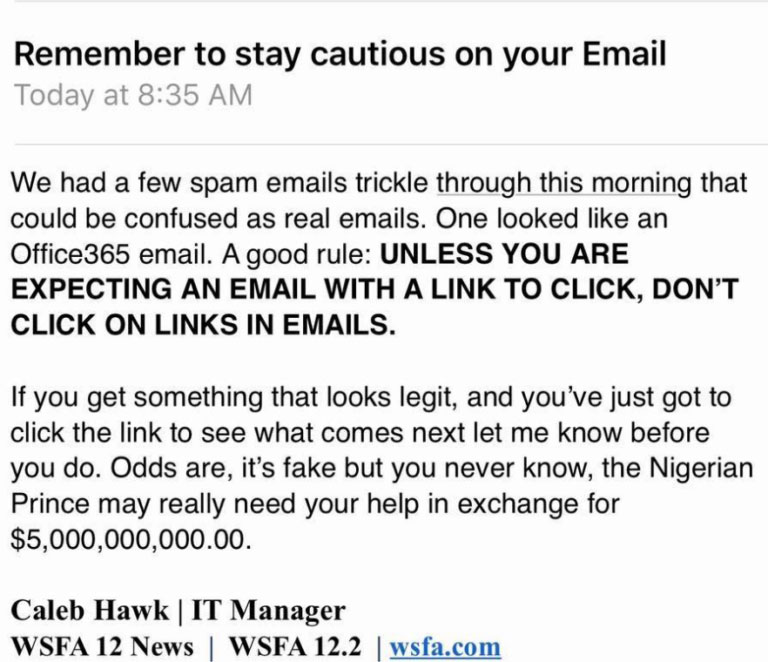 What can help besides just software?
INSURANCE WITH US, SO QUOTE YOUR BUSINESS'S CYBER LIABILITY WITH US! One simple call can save you hundreds of dollars and hours of frustration!
Other helpful ways to make it harder for you or your employees to become the victim of an attack:
Back up data frequently.
Firewalls.
Have security policies in place.
Make sure that employees know about cyber attacks and know how to respond.
Practice a response plan to a cyber attack.
The Starke Agency Inc. is an insurance brokerage and risk management company established in 1929 and based in Montgomery.